Most Christian financial advisors share your values; however, your actual investments with them are often not aligned with those same values.
'Demand Christian' is a portfolio that is carefully managed to ensure that your money aligns with your values.
Did You Know?
If you're invested in the broad US Stock market, then a percentage of your money supports companies engaged in the following industries:1
Please note that some of these percentages may overlap, as many of these companies are engaged in multiple unbiblical practices.So, what's the solution?
Invest According to Your Values…
BIBLICALLY-RESPONSIBLE INVESTING
Biblically responsible investing means that each of our portfolios contains only investments which have been screened according to biblical principles. Rest assured knowing you're invested in companies that seek to protect human life, promote human dignity, and pursue economic justice.
BE A GOOD STEWARD
All of our portfolios have an "A" ESG rating, which means your money is invested in companies that are environmentally and socially responsible.2
WORK WITH A CHRISTIAN ADVISOR
Your advisor can guide you on the best Christian stocks to invest in and equip you with everything you need to manage your money God's way.
STRATEGIES BACKED BY NOBEL-PRIZE WINNING RESEARCH3
Investing in a fully diversified portfolio of low-cost ETFs helps you reduce fees and maximize returns.
TAX-LOSS HARVESTING
Our tax efficient strategies help minimize the taxes you pay so you can keep more of your money.
SMART REBALANCING
Instead of robo rebalancing which can limit performance opportunities through its rigid, pre-defined structure, we rebalance your portfolio when it makes sense to ensure that you're buying low and selling high.
*Portfolio allocation based on risk tolerance and is subject to change.
With biblically-responsible investing, you can feel good about where your money is going. Our Christian investment services help you build long-term wealth with a diversified portfolio built just for you.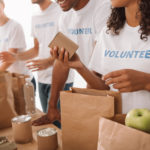 It's no surprise that people of faith are more likely to give to charity...
Why Demand Wealth?
We genuinely respect and care about your interests and values, so we help you invest accordingly.We're just as committed to your portfolio's performance as we are to ensuring your investments are tailored specifically to you.We connect you with a network of specialists from estate planning attorneys to certified public accountants (CPA's). Click here to meet our team!Our pricing structure is low and simple: 0.5% annual fee with no transaction fees or hidden costs.We help simplify and organize the complexities of your financial life.At Demand Wealth, we're driven by the values of our customers. Our Christian financial planning services can help you prepare your financial future in a biblically-responsible manner.
Get Started
Demand Principles
What does God say about investing and money management?
How can I construct an investment portfolio that aligns with my beliefs?
Am I taking on too much risk in my investment portfolio?
Is my current financial plan best for me and my family?
Does investing according to my faith mean I'll see lower returns? Does my current asset allocation align with my beliefs and goals?
Ask a Specialist…
1. Data taken from Evaluator at christianinvestingtool.com and is based on the average of the two largest funds that cover the total US Stock Index.
2. Morgan Stanley Capital International (MSCI) rates investments based on their Environmental impact, Social responsibility and Corporate Governance (ES). The more responsible a company is in those three areas, the higher the score will be. Our portfolio's ESG rating is taken as a weighted average of all funds included in the portfolio. "A" rate funds have an ESG rating above 5.70. MSCI ESG ratings are taken from www.etf.com.
3. Our core investment strategy is based on the Nobel Prize-Winning Modern Portfolio Theory.